SimChain – Discovering optimisation potentials in logistics
Many companies believe that their supply chains are the strategic foundation on which their success is built.
A supply chain is defined by the associated suppliers, production facilities, warehouses and product flows. The number and geographic location of these facilities is essential for the success of a supply chain. The most successful companies have recognized this fact and devote considerable resources to the strategic planning of their supply chains, i.e. to the definition of locations and the organization of product flows between locations.
In a network design project, various questions can be answered in this context:
How many warehouses should we have, where should they be located, how large should they be, what products are stored there and how are the different customers supplied?
How many production facilities should we have, where should they be located, how many production lines do we need, what products are manufactured there and in which warehouses are the finished products stored?
Which products do we manufacture ourselves and which do we purchase from suppliers?
From which suppliers do we purchase externally produced products?
How are the number of locations and the total costs of the supply chain related?
What is the relationship between the number of locations and the service level of the supply chain? What does it cost to improve the service level?
How do customer demand, labour costs and raw material prices affect the network?
How can seasonal fluctuations in demand be covered by appropriate production planning?
How can we ensure sufficient capacity and flexibility within the supply chain?
How can we reduce the total costs of the supply chain?
Being able to answer these questions as comprehensively as possible is essential for the efficiency and effectiveness of a company with regard to its supply chains.
Companies that have not evaluated their supply chain for several years can expect to reduce overall costs by 5% to 15% in the long term.
The potential for savings naturally continues to grow if the supply network is analysed on a regular basis (e.g. every six months or even quarterly).
The process of network analysis and network design is optimally supported by the SimChain toolset.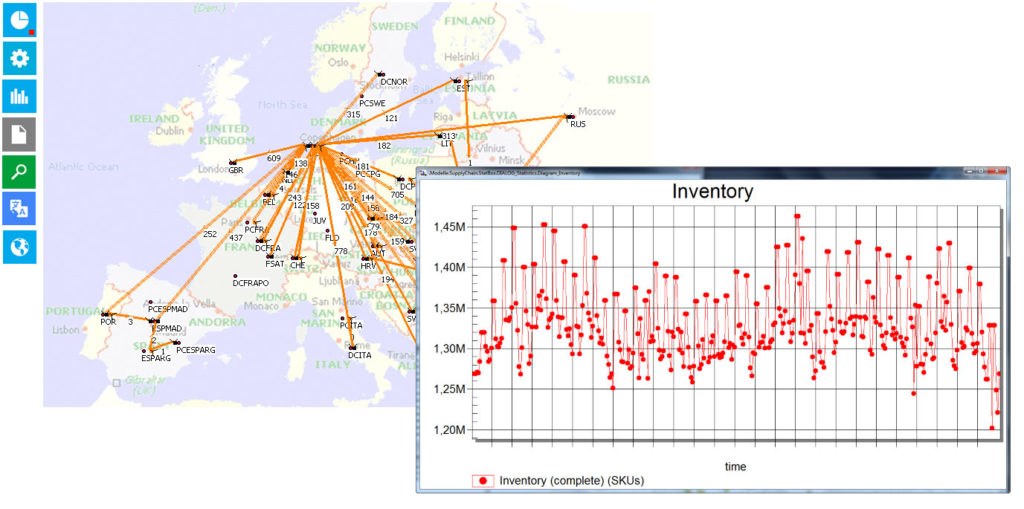 Use SimChain's flexibility to optimise parameters automatically
The SimChain toolset consists of the following software applications:
KNIME, an ETL software (ETL: Extraction, Transformation, Loading) to analyse and transform supply chain data into a readable format for optimisation or simulation;
A Python Programming Environment, if complex data analyses and transformations have to be carried out that cannot be made with the ETL software;
anyLogistix, a software from AnyLogic Company for the design and simulation of supply chains;
SimChain Building Block Library, a self-developed building block library based on Plant Simulation for the design and simulation of supply chains
Based on the SimChain toolset, SimPlan offers an individual solution customised to your company's needs and optimally covering your requirements. Furthermore, we can offer consulting and support in all phases of a network analysis or network design project.